What's in it for you?
Digitize and control your incoming booking data
Receive and share your booking data electronically
Broaden your product portfolio - New Bizz
Grow your Business – get your share of the fast-growing Courier, Express and Parcel segment
Fast Return of investment
Return of investment within 5-12 months.
Get your own Branded Booking Platform
Enabling you to receive bookings or booking requests from your clients
Automation
Automate all processes from Booking to final invoicing of your clients
Customer Service Excellence
Provide excellent and proactive customer service to your clients
Get access to multiple carriers in one system only
Manage your Carrier/Vendor agreements effectively
Savings
Continuous improvements and cost savings
Visibility
Provide full visibility and Track & Trace across the entire transport chain
Scale the system according to your needs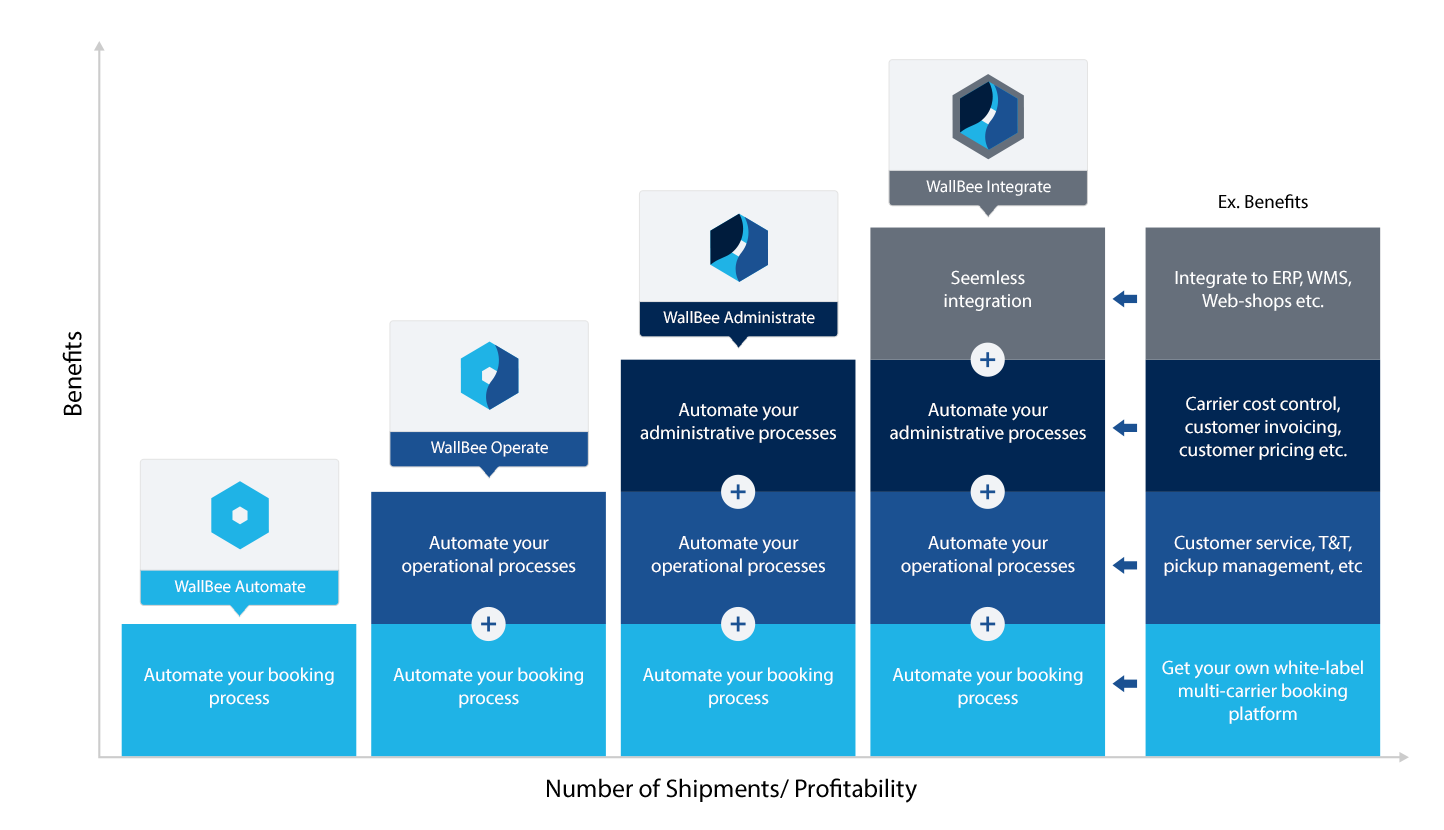 WallBee Automate
Shipment Creation
See price options – see exact transit times – book shipments (export, import, cross trade and domestic)
Carriers/Vendors
Access to multiple carriers i.e. all Integrators, general Postal, Parcel and Pallet services (B2B & B2C)
Labels / AWB / Waybills
Create final- and last mile labels/AWB/Waybills – commercial invoices – and add documentation to shipments
Address book administration
Intelligent address book – up/down load address book
Customer administration
Create Customers – Link your Customer to a Branch – Customize booking screen etc.
Fee administration
Create fee's – and present all in prices to your clients
WallBee Operate
Customer Service module
Traffic light overview – Automatic Track & Track update – Notifications – Claim handling
Pickup management module
Order pickup – Manage pickups automatically for your customer – Latest booking time – latest pickup time etc.
Product/Carrier management
Create and manage your own sales and transport products
Routing/Service management
Routing management in zones or down to zip code level per country – volumetric factors etc.
Cost/Sales price
Upload cost/sales prices
Special services
Dangerous goods, Dry Ice, Collect shipments
WallBee Administrate
Cost management / Cost control
Match carrier invoices against expected cost – Automatic approval of carrier invoices
Client invoicing
Prepare invoices or invoice specifications for clients
Pricing tool
Pricing tool – Create, maintain and correct sales prices to your clients
Instant Business overview
Finance and Performance Dashboards
Reports and Statistics
Create your own reports and statistics
WallBee Integrate
API integration
With API interfaces we connect to external systems
Accounting/Operational systems
Integrate your ERP / Accounting system and transfer billing information automatically
Warehouse
Integrate your WMS and print labels/AWB's automatically
Web-shops
Integrate various Web-shops
Data Connection
Access to data for shipments booked outside your booking system
Request a Demo
Oliefabriksvej 61, 2770 Kastrup, Denmark
Phone number: +45 53 531 531
E-mail: info@wallbee.com